I remember first hearing about this film and it's premise in 2018/2019 and, needless to say, I was very excited about it. Then, everything was put on hold due to the Disney/20th Century Fox merger. AND THEN everything was put on hold further due to the Covid-19 Pandemic. So, I've been waiting to watch this film for nearly 3 years. Was it worth the wait? Sort of.
For those unfamiliar with the new release, Free Guy stars Ryan Reynolds as Guy, a bank teller who turns out to be an NPC (Non-playable character) in a video game. Upon this discovery, he decides to be the hero, instead of going about his normal "life" and doing what he is "supposed to do". Now, that's not an unusual premise. Similar premises are shown in The Lego Movie and Wreck-It Ralph. What set this film apart, however, was the plot line of what was happening in the "real world", and the concept of the world's first actual A.I. (artificial intelligence).
Free Guy also stars Joe Kerry (Stranger Things) and Jodie Comer (Killing Eve) as Keys and Millie, the two people who wrote
the code and created a video game for this artificial intelligence. Taika Waititi plays Antwon, the "evil" game developer who created the game Free City, the game where our main character Guy lives. Lil Rel Howery (Get Out) plays Buddy, another citizen of Free City and Guy's best friend. And, rounding out the main cast is Utkarsh Ambudkar (Pitch Perfect) as Mouser, friend of Keys and another worker of Soonami, the company run and owned by Antwon. Directed by Shawn Levy (Night at the Museum, Cheaper by the Dozen) and written by Matt Lieberman (The Christmas Chronicles) and Zak Penn (The Avengers), Free Guy puts a fun and interesting twist on a reused narrative.
The biggest thing I am interested in finding out is how much of the more "meta" moments (involving Disney and Fox) were in the film prior to the Disney/20th Century Fox merger. Free Guy began filming just prior to the merger in 2019. So, it's hard to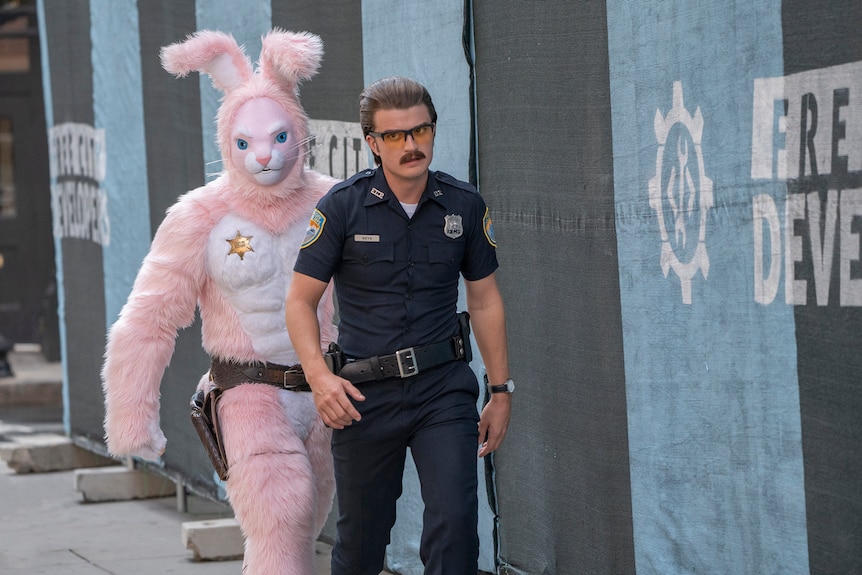 tell what was always there and what was added, if anything. If anybody has any information on that, it would be greatly appreciated.
The film, as a whole, was a very interesting concept, with that added addition of the world's first actual A.I., and the moral obligation we have in regard to that. However, I do feel that the script could have used a little more flushing out. It could have used a little more substance, instead of just relying on the audiences love for Mr. Ryan Reynolds.
The score by Christophe Beck was beautiful and perfectly fitting for the film. The inclusion of an absolute BANGER of a Mariah Carey song was a wonderful and welcome addition. The special effects were fun, and fully what was expected from a film that is based in a video game.
Was the film enjoyable? Oh, absolutely. Was it everything I wanted it to be? Almost. Would I see the film again? Yeah, probably.
It's definitely worth the trip to the theater for a good laugh.